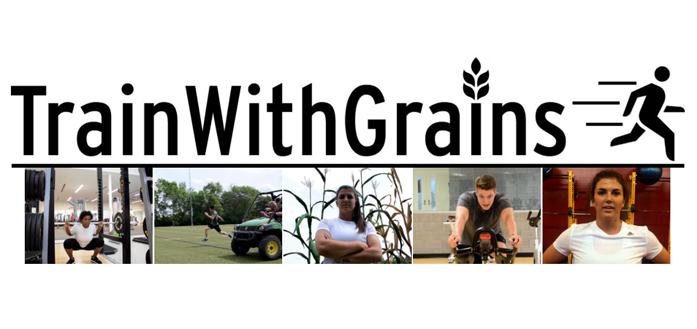 #TrainWithGrains is a social campaign encouraging Ontario university students to fuel their bodies with healthy foods made with barley, corn, oats, soybeans, and wheat and perform an athletic ability. The campaign begins on January 8, 2018 and ends on March 1, 2018.
Participating student athletes will record themselves explaining how they #TrainWithGrains and demonstrating an athletic feat. Every video submitted will be posted on the #TrainWithGrains Facebook page and www.goodineverygrain.ca, and tagged with their university and Good in Every Grain. The ten videos with the most views will advance to the Final (the top five male athletes and the top five female athletes).
Throughout the campaign, additional weekly prizes will be awarded to one male athlete and one female athlete every week, courtesy of Adidas. Weekly prizes will be awarded by a selection committee from Grain Farmers of Ontario, The Building Blocks Group, and Ontario University Athletics.
The #TrainWithGrains Final will take place at the University of Guelph on Thursday March 15, 2018. Finalists will arrive at the University of Guelph on Wednesday, March 14 to register. Accommodations, meals, and athletic apparel, including shoes, will be provided.
On the day of the #TrainWithGrains Final, athletes will compete in a series of activities themed around "Food, Fitness and Friends." Finalists will earn points for each activity.
Prizes
1st Place = $2,500 cash
2nd Place = $1,500
3rd Place = $1,000
4th Place = $500
5th Place = $500
Total Cash Awarded
$6,000 Males
$6,000 Females
Visit www.goodineverygrain.ca for contest information.
Grain Farmers of Ontario is proud to be an official partner of the OUA.