Jason and Christina Pyke, 52 weeks of #YOURFARMERS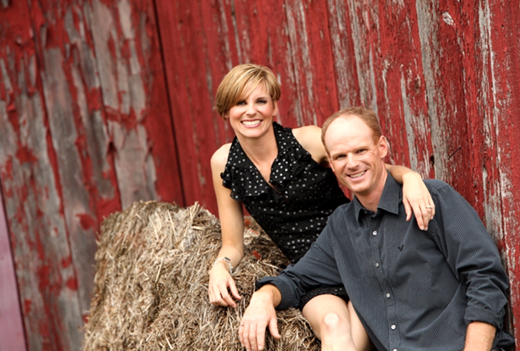 Farming on Wolfe Island has its own set of challenges – all of our inputs have to enter or leave the farm via a 55 car ferry.
Jason, his wife Christina, and children Jack and Chloe farm on Wolfe Island on the St. Lawrence River. Wolfe Island is the largest island of The Thousand Islands and is located outside of Kingston. Jason and Christina graduated from the University of Guelph with diplomas in agriculture and began their farm operation. Originally raising North American bison, in 2012 the couple expanded their operation into crop production. Today, Pykeview Meadows is made up of 1000 acres of corn, soybeans, and wheat. Being grain farmers on an island comes with its own sets of challenges; all inputs including seed, chemical, fertilizer, fuel and as well as any crop production or farm equipment enters or leaves the island via a 55 car ferry. This adds an extra layer of organization specifically during the busy spring planting and harvest times as Jason and Christina must logistically plan around this obstacle. This includes having seed delivered at the right time so as not to slow planting, or ensuring there are enough trucks available on the Island during harvest to keep the combines rolling.
Pykeview Meadows work to maintain a number of sustainable practices, including no till systems, utilizing soil maps, and testing practices to accurately apply fertilizer and other nutrients. They have also incorporated wind turbines on their farm.
Jason and Christina are active members of the farming community, and they participate in organizations like Grain Farmers of Ontario, The Frontenac Federation of Agriculture, Frontenac Soil and Crop Improvement Association, the Ontario Bison Association, and Marysville Public School Parent Council. In 2009, Jason and Christina were honoured to receive the Ontario's Outstanding Young Farmer award. This has given them the opportunity to visit with and learn from many forward thinking and progressive farmers from both Ontario and across Canada representing all aspects of agriculture and is an organization they are still very much involved with today.
52 Weeks of #YOURFARMERS
In 2017, we're highlighting a new Ontario grain farmer every week. Get to know us!