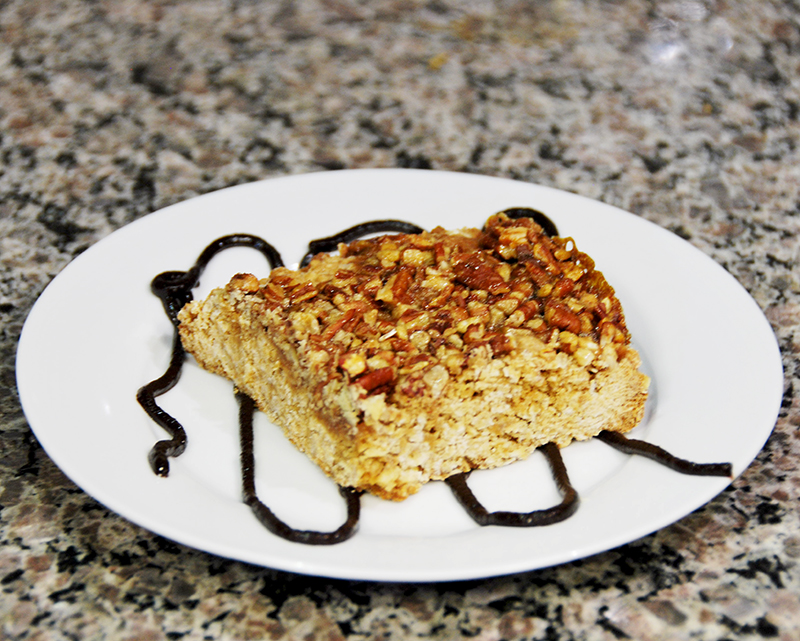 Try these delicious maple oatmeal pecan bars for a festive holiday treat!
Yield: 12 servings
Prep time: 10 minutes
Cook time: 35 -38 minutes
Ingredients
¾ cup (1 ½ sticks) butter
2 ¼ cups oats (quick, uncooked)
2 cups all-purpose flour
1 ½ cups brown sugar (firmly packed)
1 tsp baking soda
1 tsp salt
⅓ cup maple syrup
1 egg (lightly beaten)
1 tsp vanilla
Topping:
1 ½ cups chopped pecans
¼ cup firmly packed brown sugar
⅓ cup maple syrup
Directions
Heat oven to 350 degrees and spray a 13×9-inch baking pan with no-stick cooking spray.
Melt butter and set aside to cool.
In a large bowl, combine oats, flour, brown sugar, baking soda and salt; mix well. (Dough will be stiff).
In a smaller bowl, combine melted butter, syrup, egg and vanilla; mix well. Add this mixture to the oat mixture and mix well.
Press dough evenly onto bottom of the pan.
For the topping, combine pecans and brown sugar in a small bowl, then sprinkle evenly over dough. Press down lightly and drizzle syrup evenly over pecans.
Bake 35 to 38 minutes or until edges are set but the middle is soft. Cool completely in pan on a wire rack and cut into bars for serving.