Why did Ontario grain farmers demonstrate last week?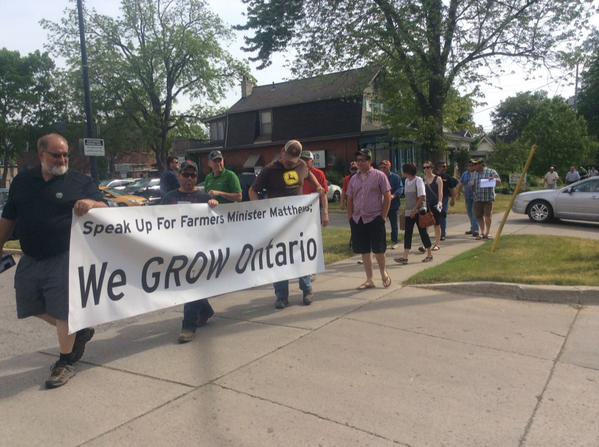 On Friday, dozens of farmers gathered outside the offices of Deputy Premiere Deb Matthews (the MPP for London) and Minister of Agriculture, Food, and Rural Affairs Jeff Leal (the MPP for Peterborough) to protest the government's attempts to restrict access to a widely-used class of pesticide called neonicotinoids.
Neonicotinoids are a class of pesticide that farmers use to protect their crops from a variety of destructive insects. 'Neonics', as they are more commonly referred to as, were introduced in the late 1990s, and have since been widely adopted as the safest seed treatment with excellent results for crops. Seeds are coated with the pesticide before planting, which protects them from pests like seed maggot and wireworm, which feed on crops at very early growth stages. This application method is widely considered to be much safer than spraying pesticides ("foliar application").
Some environmental activists (and a now-discredited paper, often and mistakenly attributed to Harvard University) believe that neonics are linked to declining bee health. While it is unlikely that bee numbers are even actually in decline (Statistics Canada reports that honeybee numbers in Ontario are up by almost 60 per cent since 2003), the government of Ontario has recently moved to reduce neonic use in the province by 80%.
Grain Farmers of Ontario, the organization that represents Ontario's more than 28,000 corn, soy, and wheat growers says its members believe the new regulations are an attack on modern agriculture. Without real evidence to support the claim that neonic use is in any way correlated to bee mortality, farmers are concerned that one of their most effective tools in the eternal struggle with crop pests is being taken away because of unfounded and unscientific fears.
Farmers demonstrated last week because they have felt left out of the legislation process. Grain Farmers of Ontario's chairman, Mark Brock told reporters this at MPP Matthews' office in London:
        The big issue is just the lack of leadership we're seeing from some of these rural-urban MPP's in the liberal cabinet. You know their ridings rely a lot on agriculture and they seem to just be letting the agricultural agenda fall to Minister Murray, minister of the environment and climate change and aren't standing up for some of the issues that we're pushing forward and we're just asking them why aren't they bringing those issues forward.
---
As Ontario begins to implement the restrictions (80% by 2017), farmers hope to have more of a voice. You can learn more about neonicotinoid pesticides and bee health here:
Contact your Grain Farmers of Ontario district director to learn about opportunities to get involved, or write a letter to your local newspaper or MPP. You can contact Erin Calhoun of Grain Farmers of Ontario for letter-writing support at ecalhoun@gfo.ca.