Field tech: Farming with mobile devices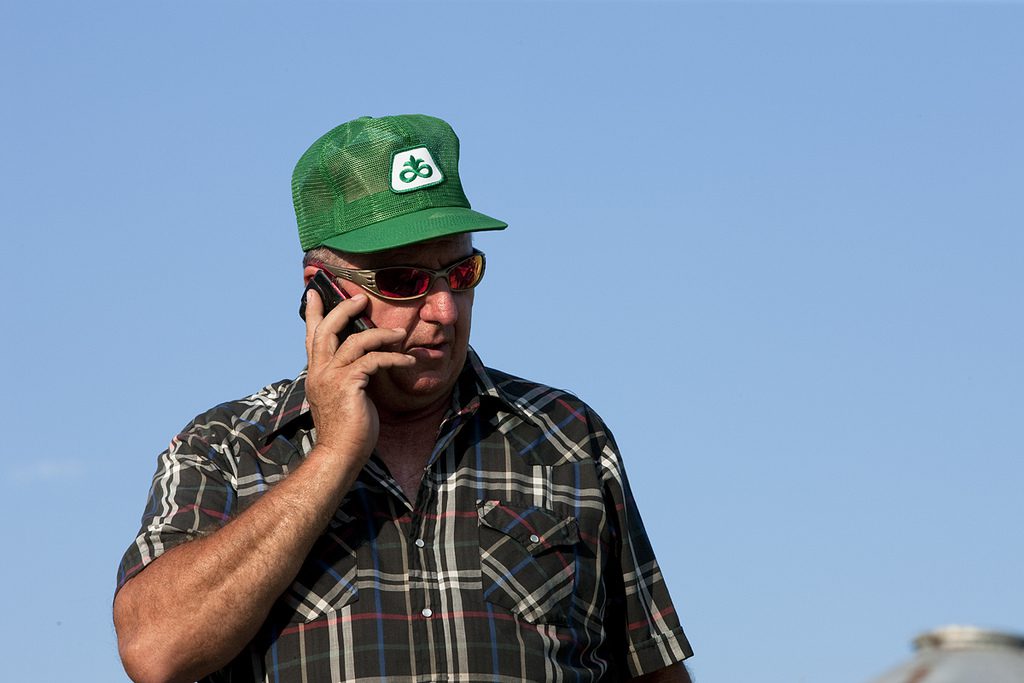 Growing up in suburban Vaughan, I have to admit that I had a pretty vague understanding of what farming actually was. I knew there were tractors, pigs, corn, and pumpkins (it's easy to assume that pumpkins make up at least 10% of Ontario's agriculture production when there's an entire month dedicated to them).
I like to think I've learned a thing or two about farming since I started working with Grain Farmers of Ontario in 2014. I really enjoy contributing to Good in Every Grain, not only because it gives me a chance to reach a wider audience than the farmers we usually deal with a day-to-day basis, but because it gives me a chance to re-evaluate old assumptions and give city kids (like me) a better chance to understand what farming is really like.
One of my biggest surprises was learning exactly how much farmers rely on their mobile devices to do their job. It makes sense—when your office covers a thousand acres, why would you choose to be chained to a desk? Modern farmers use their phone for everything, from calling grain dealers and checking in with coworkers on other parts of the farm, to checking prices and getting up-to-the-minute quotes. Mobile apps also help farmers identify crop pests and diseases, provide treatment options, and even connect them with experts for personalized advice. GPS-guided tractors across the province have tablets securely velcro'd to the dashboard are tracking planting and harvest data that farmers can read and react to in real time.
Nearly every single business decision a farmer needs to make is now informed by an incredible amount of data, and it's almost always collected and accessed from a mobile device. With the help of Guelph's AgNition Inc., Grain Farmers of Ontario currently offers three free apps for Ontario farmers' iPhone, BlackBerrys, and Android devices:
SellSmart provides futures prices for corn, soybeans, and wheat from the Chicago Board of Trade and adjusted cash prices for local grain elevators across Ontario.
AgBids allows farmers to request multiple grain prices and fertilizer quotes from different dealers in the area with one email, instead of calling them all individually.
FarmCentral is a gateway app that allows for easy access to GFO.ca, Grain Farmers of Ontario apps, and other online tools, all in one place.
There are thousands of other farming apps available, built by dozens of farm organizations, equipment manufacturers, seed sellers, and basement entrepreneurs. Many are free and simple, while others can integrate with specialized equipment that costs thousands of dollars. With the growing number of app options, increasingly powerful smart phones, and faster mobile internet connections, it's no wonder that farmers have adopted this relatively new technology so quickly. •