Grains take centre stage at the Royal Agricultural Winter Fair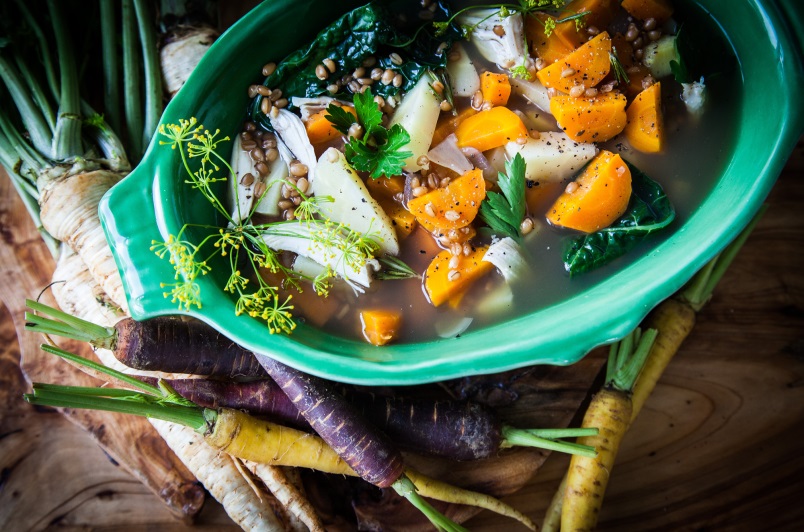 On November 3rd, Grain Farmers of Ontario Resident Chef Jonathan Goodyear took to the stage at the new Growing Connections exhibit and showed an attentive audience how to make delicious recipes with grains.
Chef Jonathan is honored to be the Resident Chef of Grain Farmers of Ontario and enjoys preparing unique recipes featuring Ontario corn, soybeans and wheat.
"Knowing where your food comes from is so important," says Chef Jonathan. "As a chef, I owe everything to the farmers that grow the food I prepare every day and allow me to live out my passion for cooking."
Chef Jonathan prepared three recipes at the Kitchen Stage at Grain Farmers of Ontario's new booth throughout the day, including Avery Island Salad, Pulled Autumn Chicken Soup with Plump Ontario Grains and Vegetables, and Gluten Free Adobo and Maple Bacon Stuffed Cornbread.
http://www.www.goodineverygrain.ca/2016/11/10/crispy-tofu-with-ginger-edamame/
He was also a guest judge for the finale of the Royal Chef Challenge, where chefs went head-to-head to create tasty dishes using a secret ingredient revealed on stage. This year the secret ingredient was tofu, which was revealed to Chef Justin Downes, Executive Chef at Vineland Estates Winery and Chef Bryan Simmons of Chatterpaul's just before the semi-finals began.
Both chefs prepared a variety of dishes to be judged by Chef Jonathan, Ontario Minister of Tourism, Culture and Sport Michael Chan, and food writer Mary Luz Mejia. After careful tasting and deliberation, Chef Jonathan and the other judges declared Chef Justin Downes the semi-final winner, who went on to finish second overall at the finale held on November 10.
Chef Jonathan's custom grain recipes created for Grain Farmers of Ontario were available at the Growing Connections exhibit during the Royal Agricultural Winter Fair. Find them under the 'Recipes' tab on the Good in Every Grain website. 
http://www.www.goodineverygrain.ca/2016/11/10/pulled-autumn-chicken-soup-with-plump-ontario-grains-and-vegetables/