Pulled autumn chicken soup with plump Ontario grains and vegetables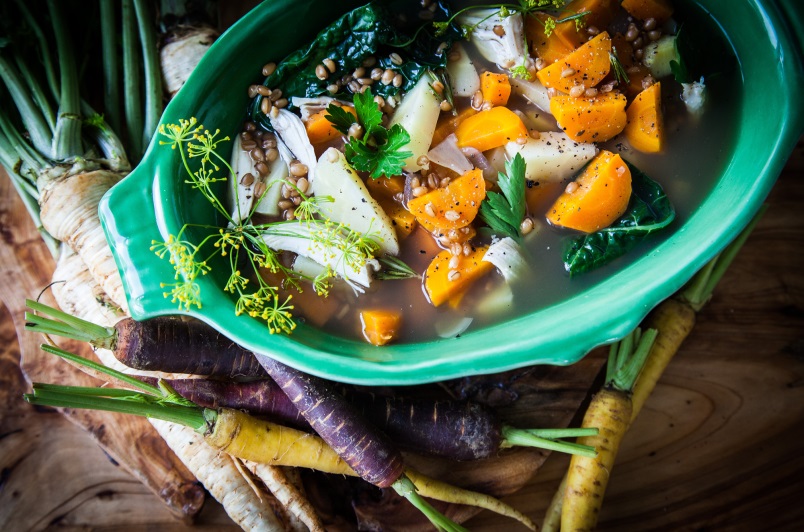 Ingredients:
Whole chicken – 1
Chicken stock – 4L (17 cups)
Wheat berries – 200g washed (1 1/2 cups)
Ontario garlic – 1 bulb
Onions – 2 split
Parsnips – 2 peeled
Heirloom carrots – 2 peeled
Cavolo Nero (black leaf kale) – 2 bunches cleaned
Thyme – 10 sprigs
Bay leaf – 1
Cracked pepper – to taste
Kosher salt – to taste
Directions:
Place all the ingredients in a large stock pot and bring to a boil.
Once the soup has come to a boil, reduce to a simmer and continue to skim off any impurities that float to the surface.
Allow the soup to simmer until the chicken is fully cooked, about an hour
Remove the chicken, wheat berries and vegetables let cool. Strain the remaining stock into a clean pot and return to the stove.
Once the chicken has cooled slightly, remove the flesh from fat and bone, flake and return to the pot on the stove.
Now that the vegetables have cooled, dice them up and return them to the soup. Bring the soup back up to a boil, season and serve!
NOTE: If you can't find Cavolo Nero, you can use regular kale.